06/03/2009
4th Nail premiere - a Romani President?
---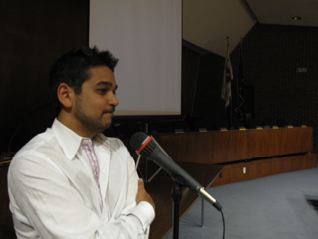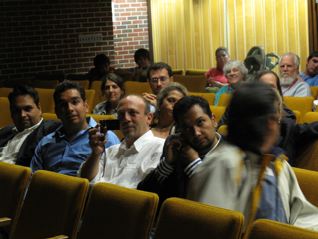 jasmine: The crowd came to Connecticut Film Festival... they clapped and cheered and asked a gazillion curious questions. I am incredibly proud of this film - "Searching for the 4th Nail" - directed by George Eli (who helped recording sound for "Gypsy Caravan" and in many other ways too). It is the first film ever made by and about Roma in America.
Romani audience members also brimmed with pride - they thanked others for coming to see their film (I always think it's the highest compliment when others take ownership of your film!). One Romani man said that he felt proud to know that his people can do things like making this film and breaking from their family enough to insist on educating their children. He cited the example of President Obama.... A hundred years ago nobody believed there could be an African American president, he said. So, it may take us 200 or 300 years, but now I believe that at least we could get a senator or something.
One non-Romani audience member asked how it could be true that Romani kids feel shunned from going to school when, in the USA, it's obligatory for all children to attend school; George responded eloquently that this is a wonderful way of thinking about education but it's also a slightly naive way of thinking because in many states there are a lot of children who don't go to school and the authorities don't bother about it at all.
"This film should be shown in every school and kept in every library," said one person. Everyone clapped in agreement.
Congratulations to George and his sons Alex and Christopher for setting such a brave example!


***EXCITING UPDATE***
4th Nail just won the CT Festival Award for Best Filmmaker.. All our congratulations to George!!!
<< go back